Ballito Rocks - Spreading The Love!
Posted on Wed November 16, 2022.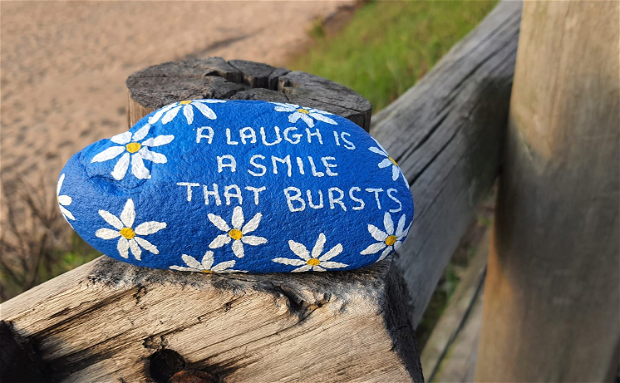 Beachfront Apartments fully supports Ballito Rocks.
We encourage our guests to spread kindness through this initiative and we look forward to seeing your lovely works of art.
We know that the end of the year can be difficult, it's been a long year and you need to put your feet up! (Don't we all!) Not only do you need to recharge physically, but mentally too! This is why we would like to bring the lovely initiative "Ballito Rocks" to your attention.
"Ballito Rocks" is a rock painting group inspired by worldwide kindness movement called Kindness Rocks started by Meagan Murphy. The idea behind Kindness Rocks is to spread kindness, happiness and inspiration through painted rocks hidden in the community for strangers to find - a random act of kindness. The idea is to inspire, motivate and put a smile on someone's face. It's great fun for the whole family!" - Janine, of Ballito Rocks
You can read more about the Kindness Rocks Project here.
Here's how the Ballito Rocks initiative works:
Purchase some rocks from a nursery or from Janine herself! Janine sells "Cookie Rocks" - smooth and round rocks that are perfect for painting. They go for R50 for a bag of 10 rocks. (Please don't collect rocks off the beach - the beach needs them!)
On the back of your rock put the following: "Keep or re-hide" & "Post on Ballito Rocks Facebook group" or "#BallitoRocks"
Once you have completed your rock art it is recommended that you seal it with a sealant to make it weatherproof!
Please do not glue any extras onto your rock (like eyes or feathers) as these may fall off and litter our lovely beaches.
Head on out and hide your work of art for somebody to find and share words of kindness with strangers. If you find a rock, share a picture of it on this group and you can decide whether you wish to keep it or re-hide it. Also, if you spot some litter lying about whilst rock-hiding (or rock-hunting), please pick it up and throw it in the bin too.
There are a number of Schools and local restaurants that are participating in this movement too! If you find a Curro school sticker hiding underneath one of the rocks you find, you can treat yourself to a milkshake at Concha, Al Pescatore, Fiamma Grill, Zara's Cafe and Mozambik to name a few. The goal of this movement is to spread love, to spread kindness and to spread joy. We encourage our guests to take part in this initiative of spreading love.
Janine hosts workshops at R180 per person and she supplies 3 rocks per person, as well as all the necessary supplies such as paintbrushes, sealant and acrylic paint. Contact Janine directly on Whatsapp at +27 82 353 7024 or head on over to the Ballito Rocks Facebook Page for more info.
We encourage our guests to take part in this initiative of happiness and look forward to seeing your artwork.