Choosing the Right Beachfront Apartment for Your Holiday
When planning a beachfront getaway, one of the most crucial decisions you'll make is choosing the perfect accommodation.
Beachfront Apartments offer not only stunning views but also the convenience of being just steps away from the sand and sea. To help you make the right choice, we've compiled a list of some of our gorgeous beachfront apartments and the unique features to help you find the one that's perfect for you.
14 Skiathos Apartment: Your Family-Friendly Retreat
14 Skiathos is not only a sought-after destination for families but also a beloved choice for honeymooners and couples seeking a romantic getaway. While this spacious apartment boasts 2 bedrooms and 2 bathrooms, comfortably accommodating up to 6 guests, it's equally adept at providing an intimate and cozy retreat for couples. The two ensuite bathrooms add an extra touch of luxury, offering privacy and convenience to those looking for a tranquil escape. For those who choose to bring their little ones along, the apartment caters to family needs with a dedicated kiddies table and chairs, complete with a bucket and spade for delightful beach adventures. Additionally, there's the option to include a camp cot and high chair for added convenience, ensuring a seamless and enjoyable stay for all guests.
5 Skiathos: Ideal for Couples and Accessibility
5 Skiathos Apartment is perfect for those seeking accessibility and comfort. With 3 bedrooms that can sleep up to 6 guests, this apartment stands out for its easy access—no steps to worry about—and the convenience of parking right outside the front door, all on one level. It also boasts an enclosed sunroom, providing additional seating space, making it an excellent choice for three couples looking to enjoy Ballito and its surrounds.
17 Skiathos: A Luxurious Retreat with Privacy
For those who prioritise luxury and privacy, 17 Skiathos Apartment is a top pick. With 3 bedrooms that can accommodate up to 7 guests, it is suitable for three couples or a family with older children.The apartment features a luxurious bar area and a large TV for watching sports, making it perfect for sports enthusiasts. The well-equipped kitchen is a chef's delight, and the outdoor entertaining area adds to the luxurious charm. If you are looking for a luxurious beachfront escape, this is the perfect apartment for you.  
32 and 36 Martinique: Fun-Filled Family Escape
32 and 36 Martinique Apartments are tailored for families looking for endless entertainment. Offering 3 bedrooms and 2 bathrooms, these beautifully appointed ground-floor apartments can sleep up to 6 guests. The highlight is the spacious patio that extends into the garden and pool area, providing a mesmerising sea view. This setup creates a relaxed ambiance for maximum enjoyment during your stay.
Added Bonus: These 2 apartments are located right next to one another, offering the perfect set-up for a family reunion or larger family gatherings. They are connected by a shared lawn, ensuring that everyone can stay close and enjoy quality time together.
The Nest at Martinique: A Romantic Retreat for Two
If you're seeking a romantic getaway, The Nest is a charming studio apartment set in a beautiful garden with mesmerizing sea views. Designed for two guests, this private space includes its own fire pit, making it ideal for couples looking to create cherished memories. It's also a haven for bird lovers, allowing you to connect with nature in a tranquil setting.
Neadhouse at Martinique: Perfect for Large Families
For larger groups or families, Neadhouse at Martinique is an excellent choice. This stunning 4-bedroom house, capable of accommodating up to 8 guests, features its own private pool for ultimate relaxation. There's even an option to rent the Studio apartment, providing space for an additional couple. It's the perfect accommodation for a big family or a family traveling with children and their friends, ensuring everyone has a comfortable and enjoyable stay.
Due to the swimming pool not being covered and my guests safety being my number one priority, I do not allow children under 12 years old at Neadhouse.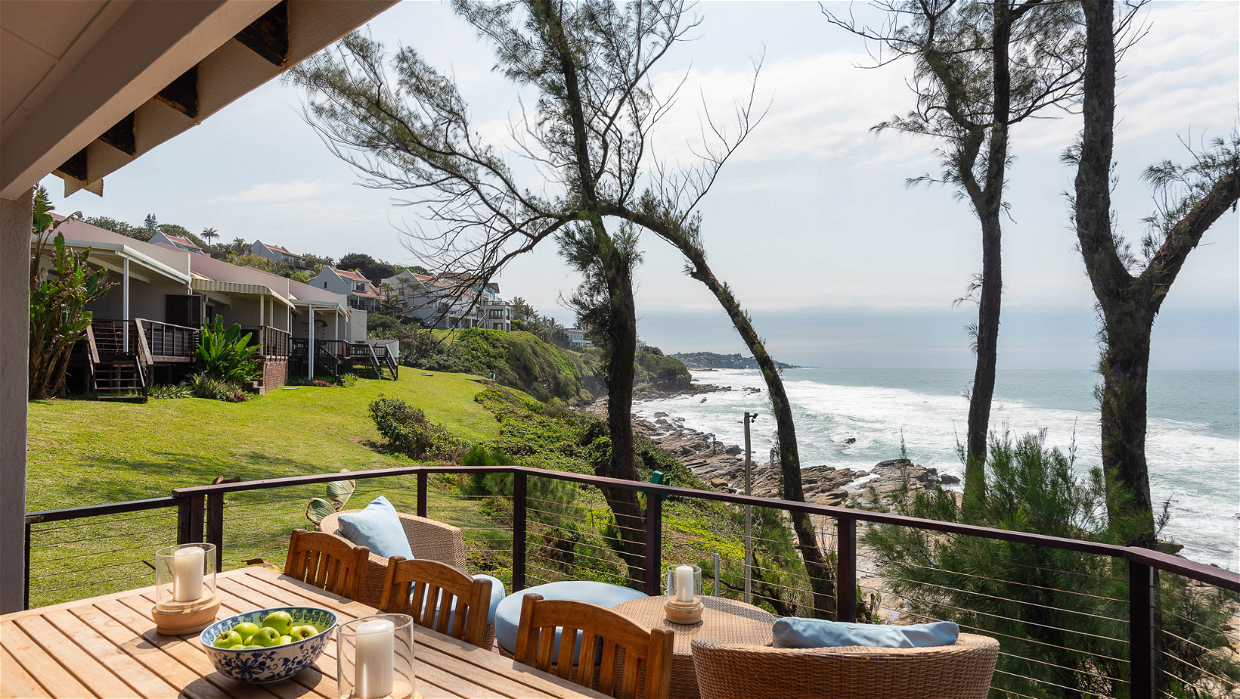 3 Martinique Duplex
This stunning beachfront family home is an ideal retreat for large or extended families seeking an unforgettable vacation experience. With its spacious interior, plentiful amenities, and breathtaking views, this property caters perfectly to your family's needs. The outdoor deck provides the perfect setting for a Braai, while the expansive lawn offers ample space for the kids to play ball, all while you soak in the mesmerizing full breaker views. The four bedrooms and two bathrooms ensure everyone has their own space, and the open-plan living and kitchen area create a relaxed and welcoming atmosphere for quality family time. Additionally, the duplex layout provides extra privacy, with two bedrooms and a full bathroom on each level, making it perfect for accommodating extended family members. With its large open-plan kitchen, dining area, and two lounges, all offering captivating sea views, this holiday apartment is tailor-made for a memorable family getaway by the beach.
Each of our meticulously selected beachfront apartments offers a unique charm and caters to various preferences, ensuring that you find the perfect match for your vacation needs.